‹ All news
---
Greenpeace and Extinction Rebellion Finland activists stop Russian coal train at Koverhar harbour gate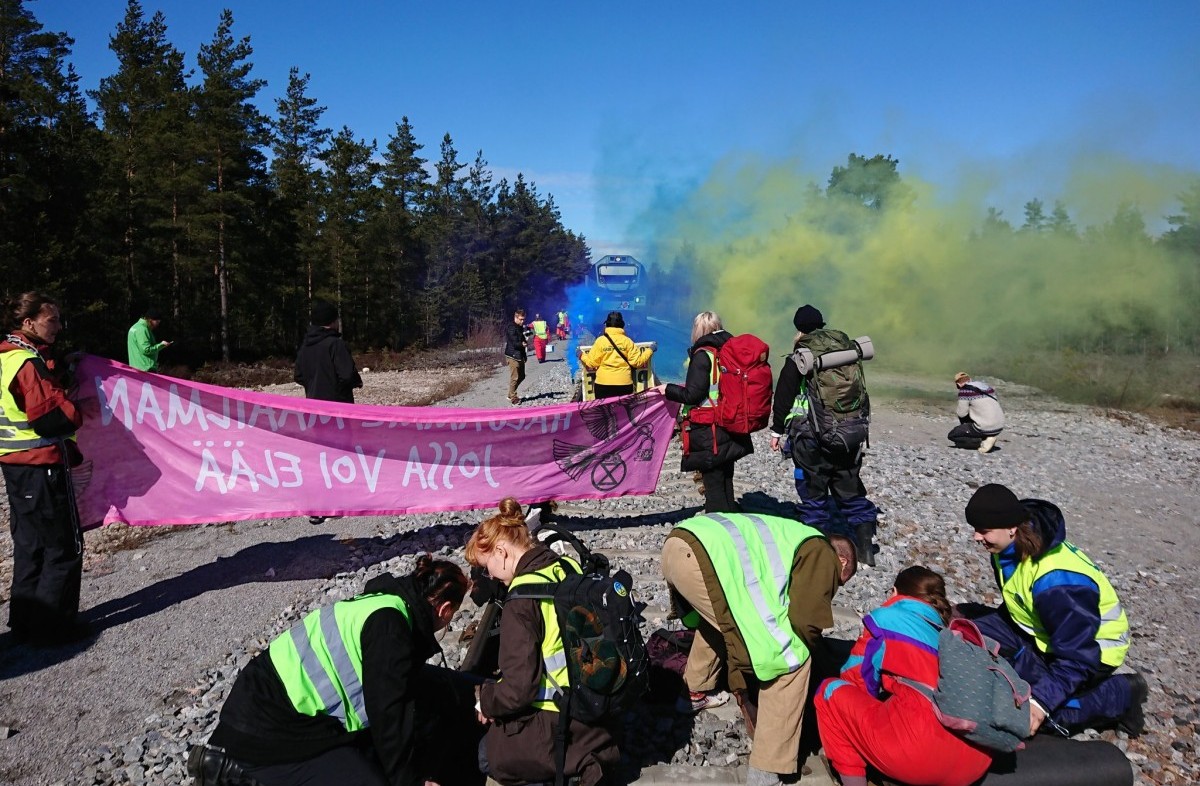 Press release 12.4.2022 - Free for immediate publication
Greenpeace and Extinction Rebellion Finland activists have stopped a train that transports Russian coal to port of Koverhar in Hanko. After the first group of activists blocked the track to the Koverhar harbour, the train was forced to stop approximately 50 meters from the harbour gate. After the train had stopped, a second group of activists climbed on the train at approximately 2:15 pm, while a third group assumed positions on the tracks in front of the train to prevent the train from moving. The Extinction Rebellion Finland activists of the third group are locked to each other and to the tracks. There is no passenger traffic on the track to the harbour.
Every day, trains loaded with Russian coal transit through Finland. The coal comes from Novosibirsk, Siberia, and is shipped to destinations abroad through Finnish ports of Koverhar in Hanko and Tahkoluoto in Pori for the production of steel. The company that produces the coal, Sibanthracite, is owned by oligarch Albert Avdolyan, who also engages in business with Russian army's arms supplier Rostec.
Extinction Rebellion activists consider it indefensible and morally unbearable that state of Finland, state-owned company VR and port operator KWH Logistics expect to allow transit of Russian coal and oil through the Finnish railway system and Finnish harbours for months to come. Every year, more than one million tons of Russian coal is transported through Finland through the ports of Koverhar, Tahkoluoto and Kokkola. In doing this, Finland supports Russia's war of aggression while simultaneously contributing to destructive climate warming.
Vladimir Putin's former financial advisor believes that a complete embargo of Russian gas and oil could force Putin's regime to withdraw from the war within one to two months. Finland's action therefore has direct impact on what will happen in Ukraine in the near future.
Extinction Rebellion Finland demands stopping of transit traffic of Russian fossil energy through Finland with immediate effect, and for Finland to cuts its dependency on Russian fossial energy immediately through reduction of energy consumption.
Thomas Wallgren, Extinction Rebellion Finland activist and professor of philosophy at the University of Helsinki, summarises his thoughts on the situation at hand: "Russia's war of aggression underlines the fateful connection between the war and the destruction of the environment in a terrible way. If we want to stop wars, we must change our culture and our way of life that are built on unsustainable use of energy."
Extinction Rebellion activist Nanna Pulkkinen gives reasons for the action: "We want to show Finnish companies that still support Russia's war machine and protect their fossil fuel investments that their time has run out. We don't have the luxury of months of time for governments to hesitate and corporations to study contract texts in fear of legal repercussions while civilian death toll mounts in Ukraine and Russian troops engage in genocide. Russian fossil fuel trade must be stopped immediately. The EU is expected to permit coal imports until late August, but we must have more resolve. The government of Finland has the option to order VR to stop contributing to the war in Ukraine and accelerating the climate crisis with immediate effect at its disposal."
Leo Castrén, part of the activist group preventing the train from moving at Lappohja station, continues: "We must stop importing and transporting Russian fossil fuel and curb our consumption of energy immediately. We must adapt now, not later. The fate of Ukraine's people and the accelerating climate crisis do not allow us to set conditions for giving up Russian fossil energy, and we cannot look for subsitute fossil energy elsewhere."
"Transit of coal shipments through Finland's railway network is not a matter of security of supply. It is unacceptable that ending the shipments and reorganising the logistics is expected to take several months. It contributes directly to Russian's war funds while making the climate crisis even worse. Both of these should be considered criminal activity," activist Aurora Blomberg, part of the group that has locked itself onto the tracks, continues.
Past weekend, the director of Finland's National Emergency Supply Agency stated that Finland's security of supply is not dependent on Russia or railway traffic from Russia.
Stopping the use of Russian fossil energy is entirely possible, and would demonstrate that our political leadership, headed by Minister of Ownership Steering Tuppurainen, Minister of Transport and Communication Harakka and Prime Minister Marin, assumes responsibility for its words and gestures and takes decisive action. Prime Minister Marin has repeatedly called for Finland and the EU to end their dependency on Russian fossial energy. In his address to the Parliament of Finland on Friday 8 April, Ukraine's president Volodymyr Zelenskyi stated that every educated human being knows that the time of fossil fuels is in the past. In Zelensky's view, Russia's abuse of its energy reserves to finance aggression against other nations should be a powerful incentive to accelerate the decisions that will have to be made.
Extinction Rebellion Finland believes the current acute crisis of energy availability must be resolved primarily through rationing and reduction of consumption of energy instead of making any further payments to Russia for fossil energy during any "transition period".
Extinction Rebellion Finland also reminds that in addition to breaking free of our dependency on Russian and any fossil energy, we must ensure sufficient carbon sinks, reduce our climate emissions and protect natural diversity. Increased logging and substantial increases in the use of domestic wood chip and peat for energy production both aggravate our second existential crisis – the ecological crisis.
---
Media image download::
https://photos.elokapina.fi/s/2bpw9orjpu/12-4-2022
Media contact:
[email protected]