‹ All news
---
XR Finland declares the Autumn Rebellion to demand urgent climate action from the policymakers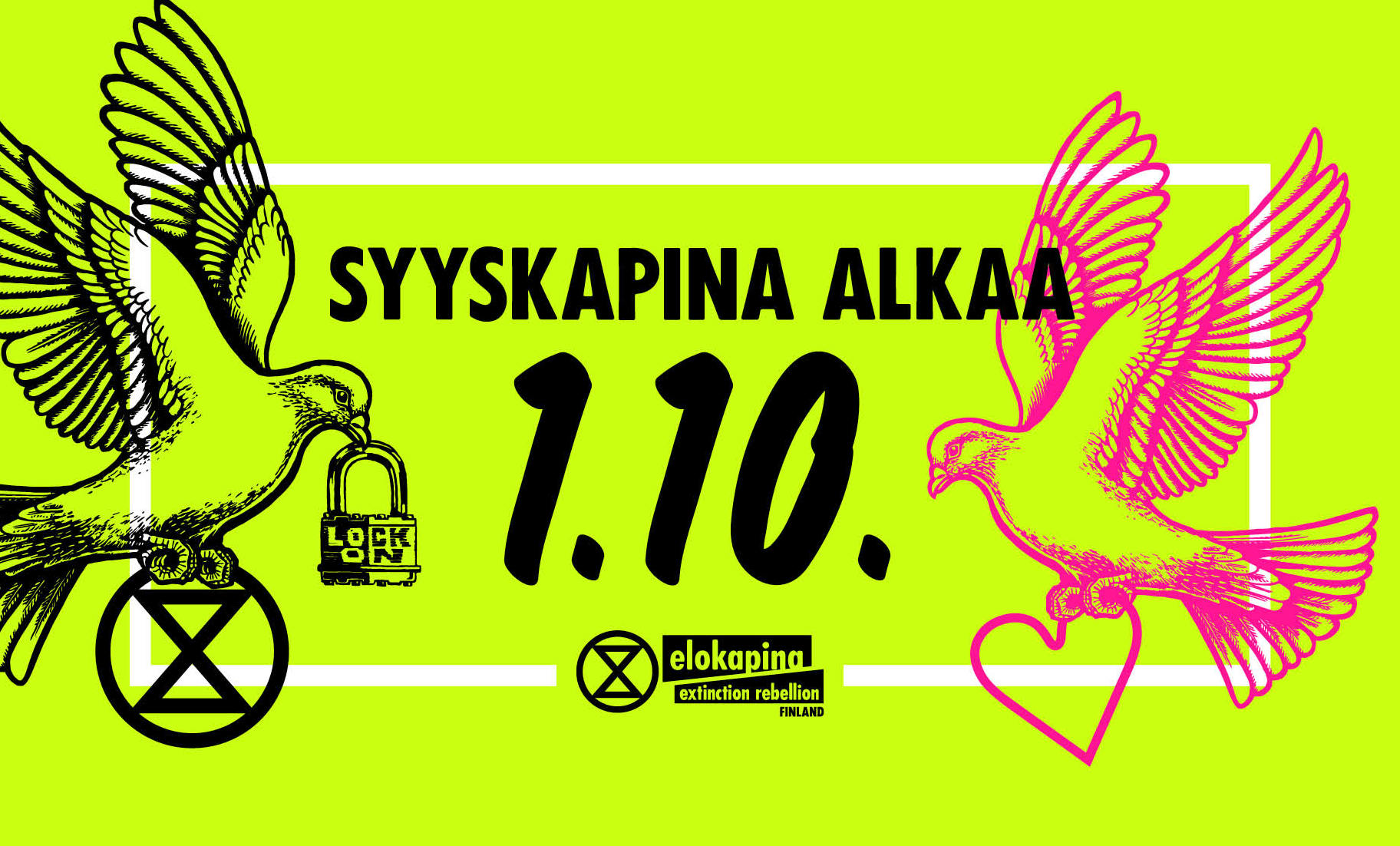 XR Finland's advance press release about the Autumn Rebellion (1.10.-7.10.)
The social movement XR Finland declares a week-long Autumn Rebellion in Helsinki on 1.10. During the rebellion the rebels from all over Finland join non-violent direct action and civil disobedience in Helsinki. XR Finland demands that the policymakers start acting in a way fitting the seriousness and urgency of the climate and environmental crisis.
We will take up non-violent direct action that will lead to arrests, because this is the only way to stop the destructive development in the situation where the climate and environmental action by our leaders has been completely insufficient – most recently the budget discussions in September. It's our ethical responsibility to act.
On Saturday 3.10. XR Finland will organize an open protest called Hätäjarrutus (Emergency Brake).
XR Finland demands that the Finnish government 1) declares a climate emergency and starts providing regular information about the progress of the climate crisis. 2) decreases the net emissions 20% from the current level every year starting 2021, so that Finland is carbon neutral in 2025. At the same time a massive ecological reconstruction must be started. The government must also 3) strengthen democracy by creating a Citizens' Assembly chosen by national simple random sampling.** The Assembly discusses solutions to the climate and environmental crisis based on science and observes the fulfilment of the objectives.
In addition, during the Autumn Rebellion XR Finland organizes different kinds of low threshold events open to the public such as science panel, people's assembly, dance, stage poetry and much more in their Rebellion Center on Senate Square.
Autumn Rebellion is a part of the global wave of rebellion by Extinction Rebellion. For example, in Great Britain Extinction Rebellion claimed the streets of London for 10 days. During this time, a climate and environment emergency bill that's in line with the movement's demands was introduced in the British parliament.
XR Finland follows the corona situation and takes care of corona safety in its events.
You can find more information in our Autumn Rebellion section.
---
You can reach us at: