Extinction Rebellion Finland Activists Stopped Trucks Transporting Waste Soil – The driver kept driving pushing an activist for dozens of metres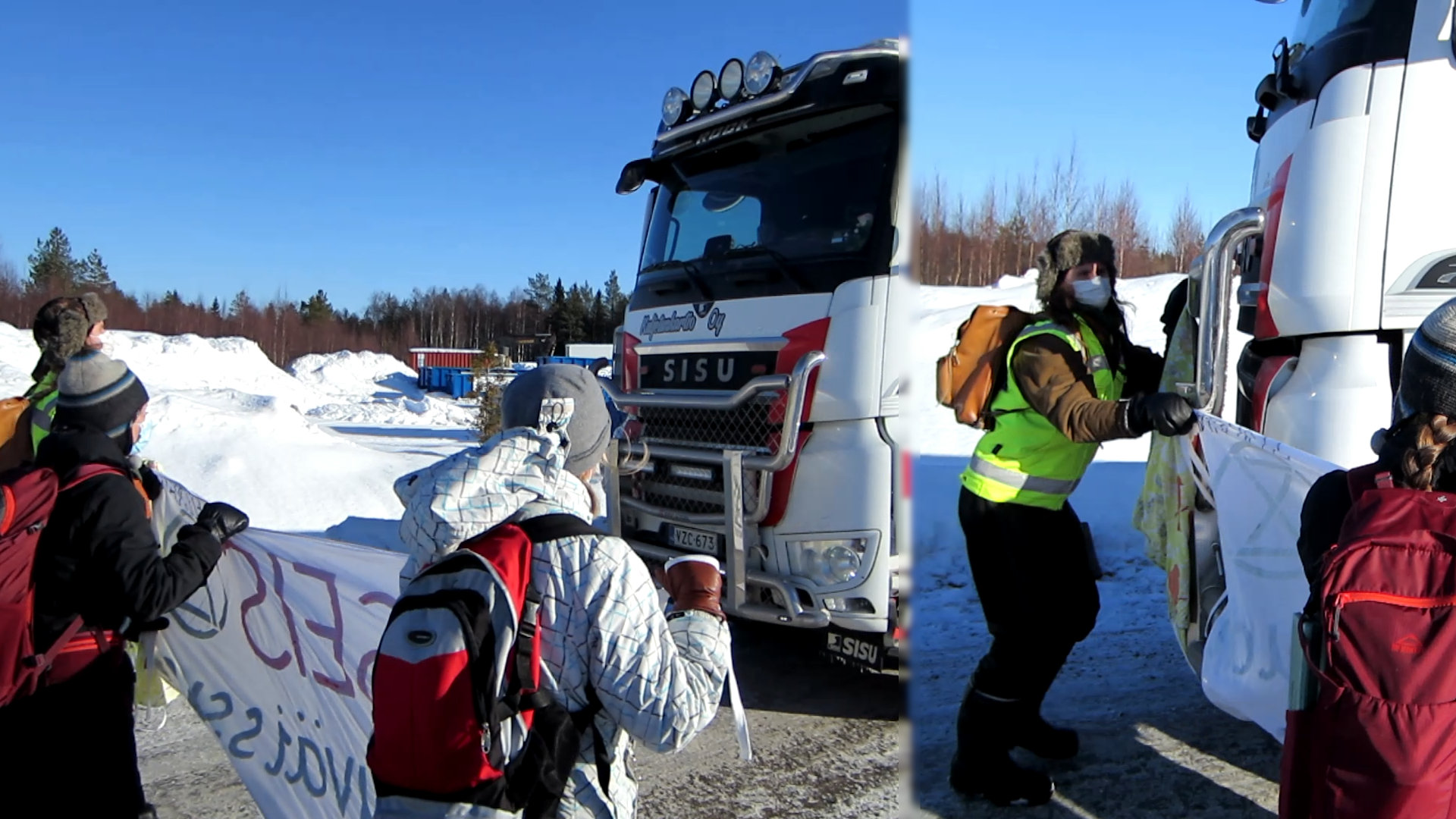 The action aimed to bring attention of the decision-makers and the public to the damaging of the precious swampland area Pyyryväissuo in Northern Ostrobothnia. However, the protest faced a serious and unexpected turn of events when one of the truck drivers drove through the sheet the protesters were holding and pushed one of the activists on the road without stopping. "I had difficulties grasping the fact that he isn't going to stop", says the activist Jalmari Suutari who got pushed by the truck.
The protest gained more visibility in media, after a candidate to the Helsinki city council tweeted about his violent fantasies regarding the incident and non violent protestors.
Non-violent direct action is one of the ways to participate in the political activism in a democratic society. Hostility towards it is unacceptable and unsustainable. The truck-drivers conduct will be reported to the police. The right to demostrate is a strong right and the threat of violence should not endanger civil activity. We want to stress that our goal is to protect our common future and environment. Suutari, the activist pushed by the truck tells about his motives for taking action: "I have deep love for nature and there's no way I can accept the destruction that we're causing to the biodiversity. I think Elokapina [Finnish for XR] has the pontential to save the biosphere where other movements so far have failed despite their numerous valuable attempts. What's at stake is the future of humankind as a species."
The purpose of Extinction Rebellion is to pressure decision-makers and bring attention to environmental and climate issues. Meanwhile, at XR we understand the fact that no one employee is responsible of the destruction of natural habitats and the biosphere. It's caused systematically in our society. In XR we understand the vulnerability of the workers status and the lack of choice about employment. All the more worrisome it is that the driver in the Oulu incident kept going causing a real physical threat to the activists. Class issues and social justice are essential to XR as a movement and we demand that the societal change and adaptation that will have to take place due to the climate and ecological crises is done in as fair a way as possible – so that inequality in our society lessens. Exticntion Rebellion activists commit to open civil disobedience with their own names and faces. They consider braking the law a smaller harm than not taking action when the climate and the biosphere are being destroyed.
Video of the event: https://www.facebook.com/elokapinaoulu/videos/1683700865147451/
More information: [email protected]