‹ All news
---
Extinction Rebellion Finland started the conversation with the Finnish media field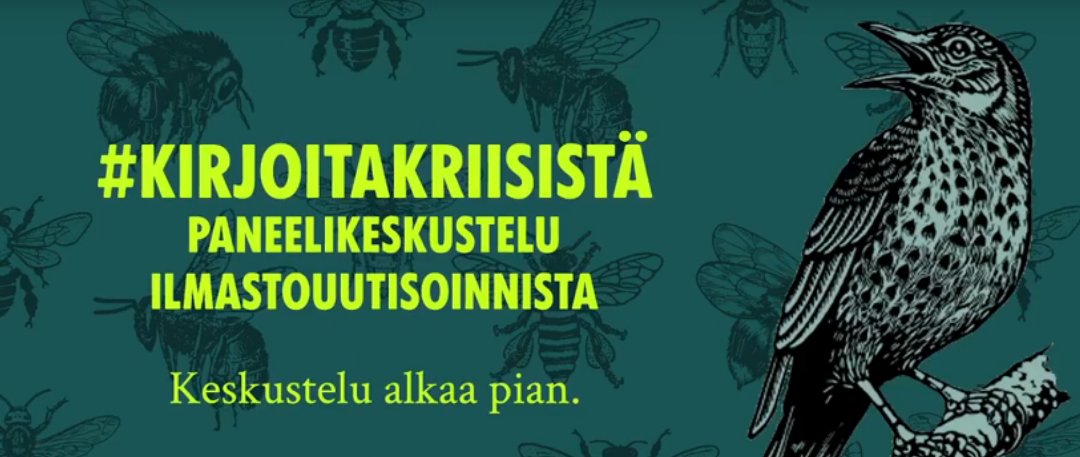 Elokapina held a panel discussion about news coverage of climate crisis on Monday 12.4. The event was a continuum of the #kirjoitakriisistä (write about the crisis) campaign, that calls responsibility in the media in regards to the climate crisis and its news coverage.
The discussion was joined by senior editor-in-chief of Helsingin Sanomat Kaius Niemi, editor-in-chief of Yle news Jouko Jokinen, BIOS-researcher Ville Lähde and Elokapina activists Iiris Laisi and Joel Tainio. The event was facilitated by the journalist Riikka Suominen.
Kaius Niemi recognized the outdated thought pattern of the media. He noted the negative effects of focusing on individual consumer choices and the need for a global system change. Niemi thinks that it is needed that the climate crisis is an overarching theme. He said that in order to reach this instruction of journalist, including the editor-in-chief, is needed. Jouko Jokinen recognized the great responsibility of journalists in the climate crisis. He ensured smarter, better and more interesting news coverage of environmental themes from Yle, for example by critically reviewing the progress of the government's climate goals. Ville Lähde called for a reassessment of the social order of importances in the media houses, so that the planetary boundaries and the pursuit for a carbon negative society would become overarching themes. Niemi, Jokinen and Lähde agreed to continue the conversation with Elokapina about the role and responsibility of the media in the ecological crisis.
Elokapina's activists Iiris Laisi and Joel Tainio criticized the fact that even though medias such as Yle and Helsingin Sanomat include quality journalism on environmental issues, the point of view still remains separate instead of a general frame. Elokapina demands an overarching climate strategy as the guideline for media. We demand for the climate- and ecological crisis to make the headlines daily, that they are discussed in leaders, news, shows and columns. We propose a continual coverage of the progression of environmental goals, so that our actions match the carbon negative future.
#kirjoitakriisistä on social media