‹ All news
---
The Extinction Rebellion demonstration at the Helsinki airport ended with 28 activists being detained by the police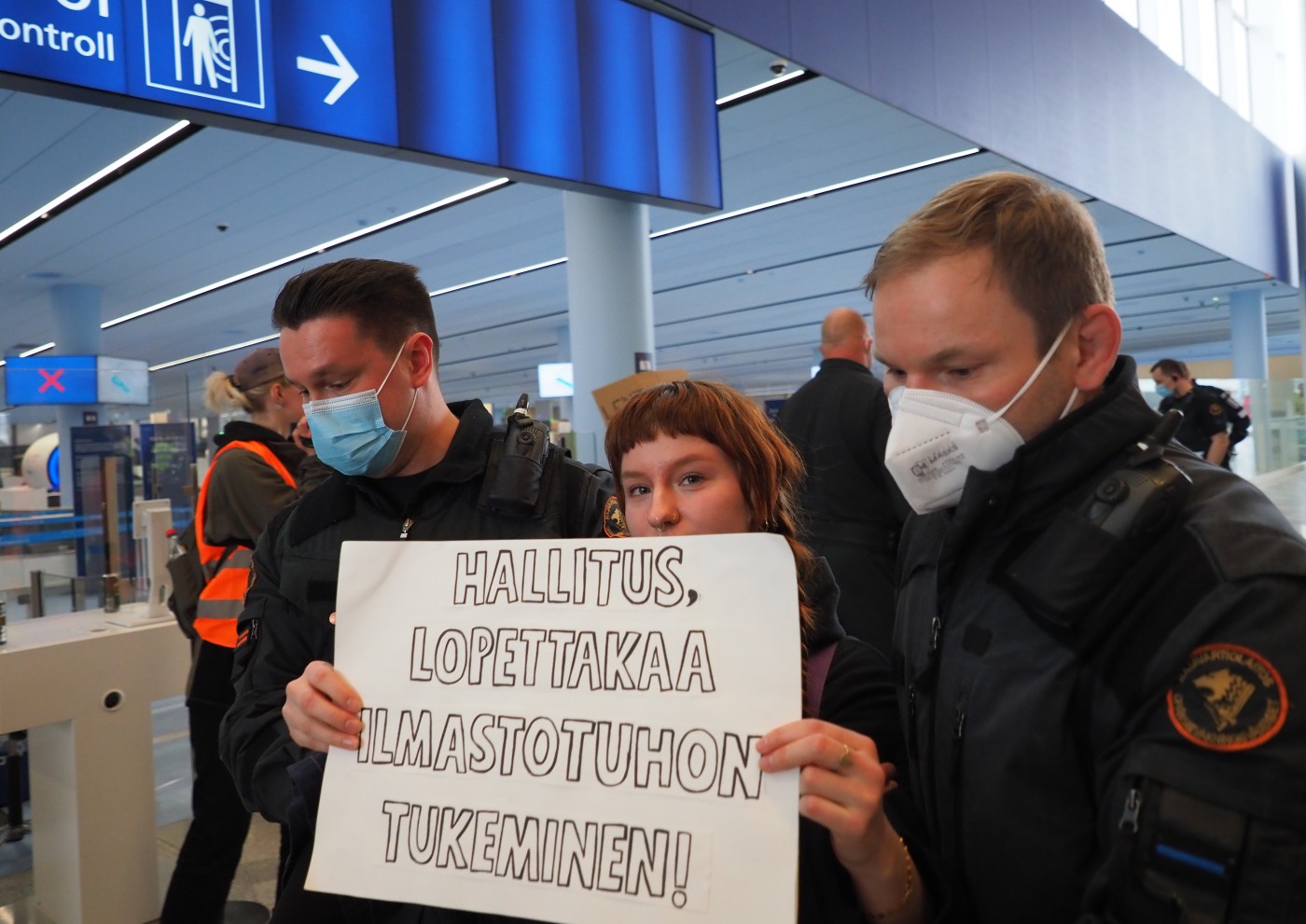 ​Extinction Rebellion Finland held a demonstration on Saturday​ 7 May at 5 PM, blocking the gates to the security checks. 28 demonstrators were taken ​​​​​into police custody. In total, 60 people protested inside the airport, supported by some 30 people outside it.
For the first time in Finland, Extinction Rebellion demonstated disturbing the activities of the airport. Extinction Rebellion Finland wants to underline the destruction of life caused by aviation and the global and local injustice underlying it. Extinction Rebellion Finland demands that the Finnish government include all aviation emissions from domestic and international flights into Finland's emission reduction goals, from which they are currently excluded. The other demand is that Finland must reduce its air traffic and Finnair's flights considerably.
Extinction Rebellion Finland points out that there is still no tax on international flights or aviation fuel and that emissions from international flights are not counted as part of Finland's emissions. Flying is also a socio-economic issue. Only just over a tenth of the world's people fly, and the top 1% account for half of all aviation emissions. The lion's share of flights in Finland are made for pleasure.
"I was protesting against the politics behind the artifially cheap price and growth of flights. Flying is infinitely damaging to our planet and this should be reflected in the price of flights. I don't think it's the fault of individuals, but of political and commercial activities that blind us to the environmental of flights", says protester Wilhelm Blomberg.
"I would like to have peace of mind that the decision makers are making sustainable choices. This must also be the case for overconsumption. We can no longer outsource our emissions to countries where the commodities are produced and pretend to ignore the damage. We have a responsibility for the suffering caused by the climate crisis elsewhere as well. Flying and aviation are some of the harmful practices that politics allows", reflects Elina Kauppila at the scene of the action.
The demonstration is part of Elokapina's Overconsumption Uprising, in which the movement demands that consumption-based climate emissions be included in Finland's emission reduction goals and that the use of natural resources and energy be reduced to sustainable levels.
---
Media image download: 
https://photos.elokapina.fi/s/2bpw9orjpu/12-4-2022
Media contact:
[email protected]