Greenpeace and Extinction Rebellion Finland activists block gate of Koverhar harbour to stop Russian coal train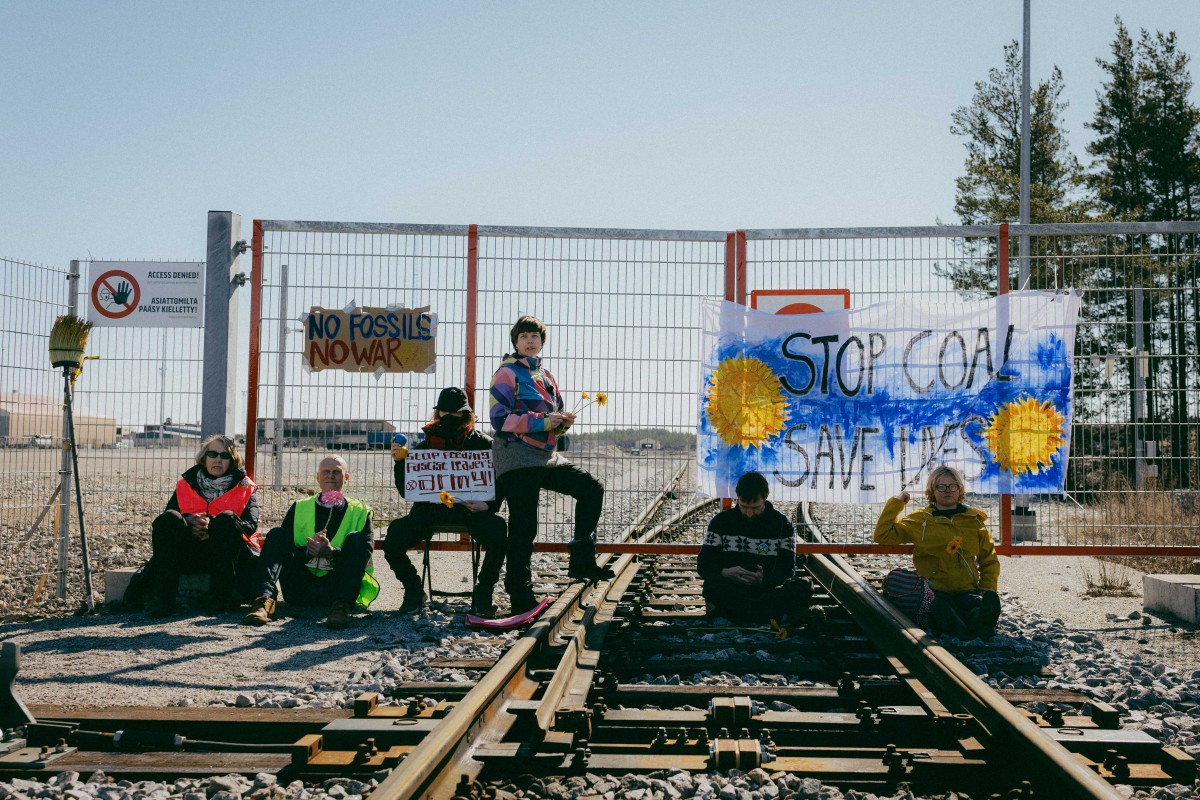 12.4.2022 - Free for immediate publication
Concerned activists of two environmental movements have collaborated to block train traffic on the gate of Koverhar harbour in Hanko, Finland. The harbour gate where the track from Lappohja train station enters the harbour area is located on Viskontie. Blocking of the harbour gate started at 2 pm, and the coal train is expected to arrive within the next 30 minutes.
Extinction Rebellion Finland demands that transit of Russian fossil energy through Finland be stopped with immediate effect. Extinction Rebellion Finland also demands that Finland cuts its dependency on Russian fossil energy immediately. Fossil energy trade with Russia funds the war in Ukraine and must be stopped without delay. Purchase of coal, oil and gas also undermines the international trade sanctions. Since the war in Ukraine started, EU countries have purchased fossil fuels from Russia with more than 19 billion euros. Putin's former financial advisor believes a complete embargo of gas and oil trade would force Putin's regime to withdraw from the war within 1–2 months. Finland's actions therefore have direct consequence on what will happen in Ukraine in the immediate future.
"Stopping our fossil fuel trade with Russia that contributes to the war funds while the cost on civilian lives mounts day by day cannot be a matter of months. It is shocking that we haven't reduced our consumption of energy yet – even though it would both cut into the resources of Russia's dictatorship and curb the climate crisis," says Extinction Rebellion activist Raili Nylund at the harbour gate.
Activist Elijah Saulio, who has locked himself to the harbour gate, elaborates: "We stand here in solidarity with the people of Ukraine also because of the direct connection between climate warming and the war. We are funding Russia's war by buying Russian fossil energy, and transit traffic through Finland makes this trade possible. Burning coal in Finland or abroad exacerbates the climate crisis and serves white supremacy by contributing to the genocide of black and brown people in the global south. I had hoped this madness had already been stopped."
Extinction Rebellion Finland believes the current crisis of energy availability should primarily be resolved by rationing and reducing the consumption of energy instead of making any further payments for fossil-based energy to Russia as part of any "transition period", financing the war and providing a route for transit shipment of fossil fuels.
---
Media image download::
https://photos.elokapina.fi/s/2bpw9orjpu/12-4-2022
Media contact:
[email protected]